NuFunk, Higher Ground Radio, and United Soul presents
Saturday, October 28th – 9:30 PM
GROOVIN' IN THE DARK
featuring Jason Palma, Kiki LeFreak, DJ YOGI, Iced Misto & Jay NuFunk
VELVET UNDERGROUND – 501 Queen St. W
Get Tickets / Facebook Event / Promo Video
USE PROMO CODE THILLER FOR REDUCED TICKETS: HERE
Last year with vocalist & dancer Lady C
The 3rd annual collaboration of local promoters NuFunk Concerts, United Soul, and Higher Ground Radio will feature the best funk, soul, disco, and house music mixed with deadly costumes, tempting candy, and spooky decor. Get your costume ready to dance with reckless abandon!
SPECIAL GUEST VOCALIST ANNOUNCED!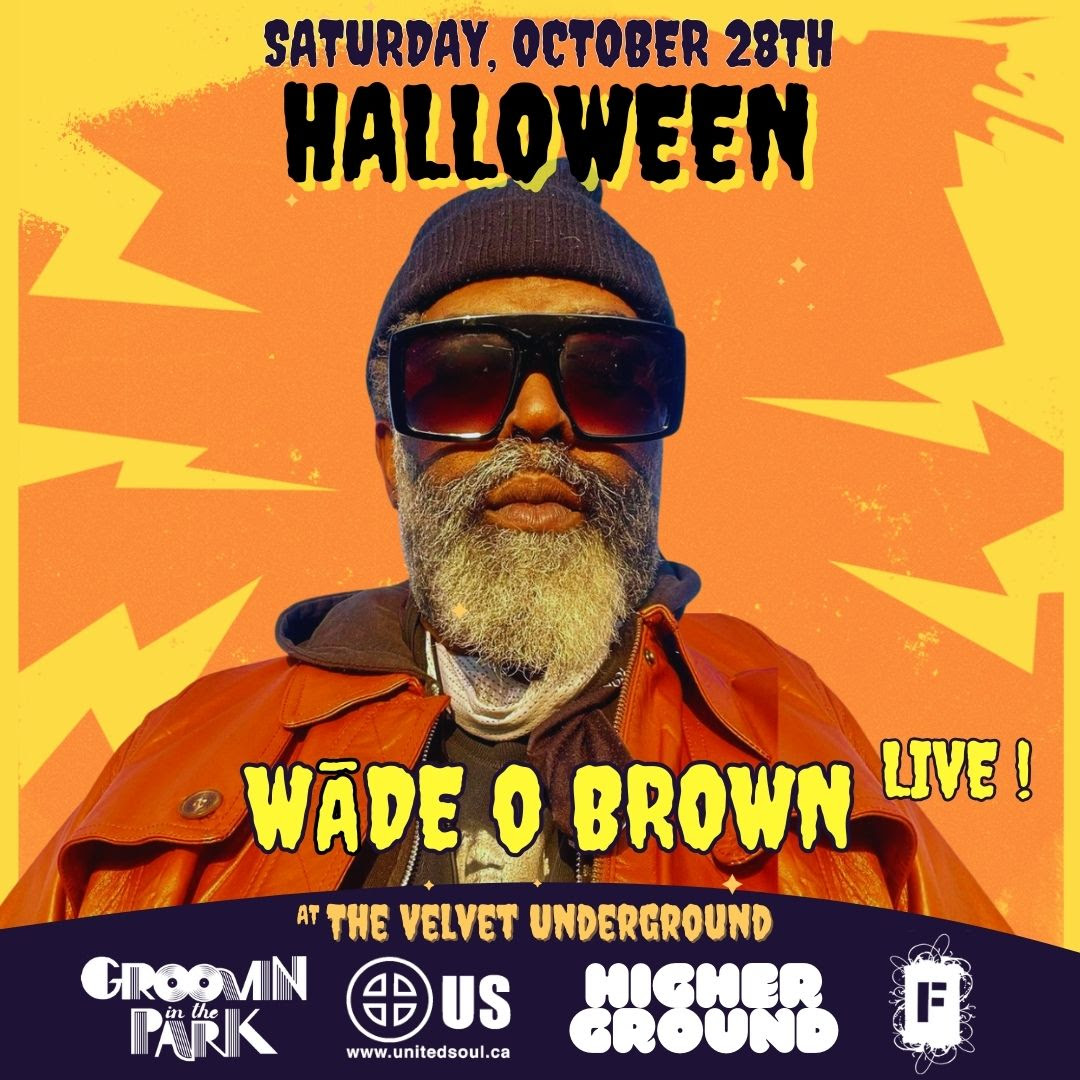 Wade O Brown is a Soul, RnB & House Music Legend! He'll be performing #House classics and a new track from his
Whether mesmerizing audiences with the sheer bravado of his inimitable sensual and velvety vocals, or dazzling fans as a maestro on the keyboards, singer/songwriter Wade O. Brown is "an artists' artist" delivering the richness of soul and rhythm & blues. Born in Detroit, Wade cut his chops as a self-taught keyboard player, playing and singing in his church band and choir. By his teens, he was performing regularly at gospel shows and conventions throughout the Mid-West and in Toronto. He eventually relocated to Toronto, where he played keyboards and sang back-up for a local reggae and funk bands. He later assembled his own band, gaining local popularity with regular performances in the city's hottest nightclubs and venues. Wade built on his popularity, performing with noted recording stars like Aretha Franklin, Quincy Jones, Roger Troutman, Glenn Lewis, Divine Earth Essence, and Ivanna Santilli, among others. He also appeared on the award-winning TV series Soul Food, performed live on MuchMusic, and co-starred in several Toronto-based theatrical productions.
FEATURED DJ PERFORMER
Kiki LeFreak is a fixture in Toronto's queer and underground house music scene. Keeks always delivers the goods, she's gotchu boo!
Kiki LeFreak is an established force in Toronto's queer community and underground house scene. Since her start hosting the legendary queer party Juicy in 2003, she has built inclusive bouncing rooms across the city, animating many venues, launching legendary events (Sticky Fingers, Monster, Shango, Hipnosis, A Love Bizarre) and sharing the stage with industry greats (Dj Greg Wilson, Marcellus Pittman, Osunlade, Alton Miller, Eddie C, Peter Croce, Dj Holographic, Fred Everything and most recently Mark Farina at Groovin' in the Park!). Kiki LeFreak's DJ sets take you on a joyful uplifting journey, transcending space and time. Her musical style pays homage to the rich heritage of the Great Lakes region. She plays a wide range of genres House, Boogie, Disco, Electro, and New Wave drawing inspiration from cities like Toronto, Chicago, Detroit, plus New York City, Miami, and Baltimore. Kiki LeFreak brings her extensive musical knowledge and gift for reading any crowd to creating everlasting memories in Toronto, and beyond. House music all night long c'est what?